Jul 1, 2022
DANG PHUONG LE PROMOTED TO SENIOR PARTNER AT RHTLAW VIETNAM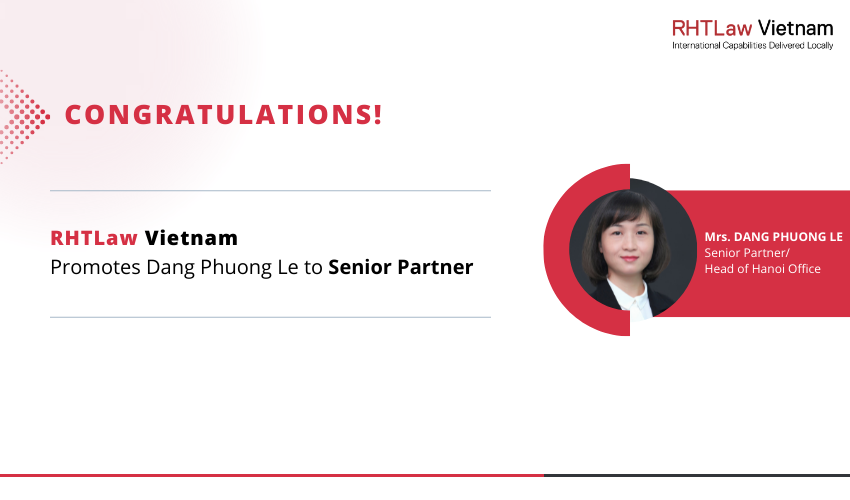 We are pleased to announce the continued growth of the Firm and leadership with the promotion of Mrs Dang Phuong Le, Head of Hanoi Office, from Partner to Senior Partner. The promotion takes effect as of 1 July 2022.
Since joining the Firm in 2010, Mrs Le has proven to be a leader and has played a significant role in developing our client service and overall growth of the Firm. In this new role, Mrs Le will dedicate her expertise as Senior Partner to build strategies as well as new business opportunities and continue to contribute to the Firm's development goals.
Mrs Le is a skilled lawyer with rich practice in diverse fields including investment (both outward and inward investment), corporate and commerce, M&A, antitrust (especially merger filings), banking and finance, real estate, construction, employment, dispute resolution and intellectual property.
The Firm is recently ranked by Asia IP Law, Asia Legal Business and WTR 1000 and Mrs Le has led this team capably and received recognition for her hard work. According to WTR 1000, Mrs. Le "has cultivated expertise in diverse fields including intellectual property, M&A, dispute resolution and investment, putting her in pole position to deliver meaningful strategic overviews to service users."

RECOGNITION OF OUR CAPITAL MARKETS PRACTICE

Mrs. Le was also instrumental in getting the Firm recognised in Capital Markets - Equity by IFLR 1000 for its excellent and groundbreaking work in the area. Our Capital Markets team is led by Ms Dang Thi Tuong Vi and this recognition is testament to the excellent leadership and hard work of Ms Vi. Our Capital Markets team is known for being very responsive in providing commercially driven and practical solutions.
To view Mrs. Le's profile, please click here.
To view our Capital Markets profile, please click here.